---
Summary of the book
(Published 2008)

:
The Value of Work in the Eyes of God
by Douglas E. Woolley


Practically every adult works in some way. Yet, many workers feel unfulfilled and frustrated in their work, including Christians. Those in secular employment often feel that they waste the majority of their time on things that really do not matter in the grand scheme of God. While most understand that pastors, missionaries, and church workers perform work that is valuable to God, many do not realize that other work has value in the eyes of God too. After a section that reviews the literature dealing with a "theology of work," this book presents a history of attitudes toward work that people have held through the centuries. Next, the heart of the book presents biblical rational that God values all legitimate work. God calls people to cooperate with Him in His work of serving people's needs, both spiritual and physical, thus infusing significance into people's work as they labor unto Christ, for others, and for themselves. The book presents multiple biblical purposes for working, some work ethics and proper attitudes, and the need to balance work with other significant priorities. A section is devoted to various ministry organizations within the Faith at Work movement that help assist people in practically integrating their faith with their daily work.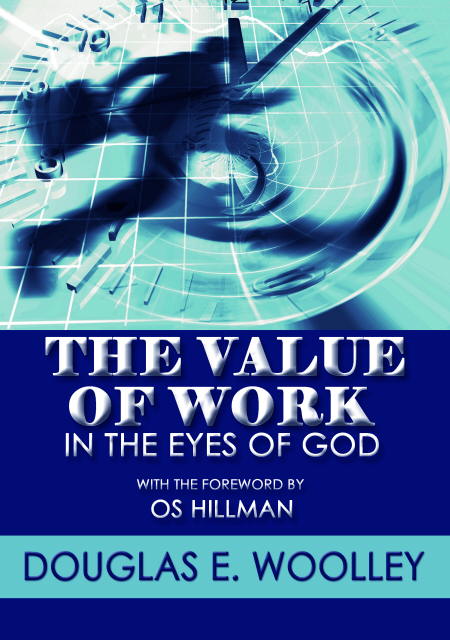 Back Cover: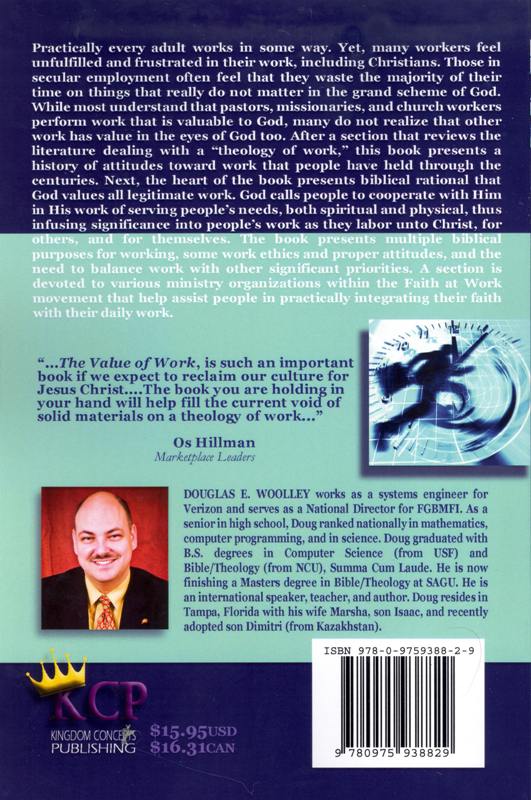 ---
Endorsements
This book by Doug Woolley, The Value of Work in the Eyes of God, goes right to the heart of explaining why our everyday work is ordained by God in fulfilling His plan for our lives. Doug's literary ability is easily seen as he takes the reader from the history, theology, and biblical principles of work, to honoring God and balancing our individual significant priorities in life. He details the "Faith at Work Movement," and brings to light the misconception that we need to be ministering full-time to the spiritual needs of others, if we really want to please God. I pray the Lord will anoint your reading of Doug's book in discovering your work as a ministry.
Jimmy Rogers: President of Rogers-Wood & Associates, Inc. (a successful general insurance agency in Atlanta, Georgia), author, and an International Director of FGBMFI
Doug Woolley succinctly traces the history of the Protestant work ethic through the contrasting attitudes currently held. The study of the theology of work has both breadth and depth with solid scriptural moorings. Readers will be enriched with a deeper understanding of how time spent in meaningful work counts for eternity and glorifies God.
Dr. Royce Shelton: Professor Emeritus at Southeastern University in Lakeland, Florida
By carefully weaving the historical, theological, and practical aspects of work, Doug Woolley has been able to reveal to his readers the significant influence they can be in the marketplace. In my opinion, he has very clearly shown us that both the secular and the sacred are important to the carrying out of God's plans and purposes in the earth. This book is a must read not only for those in the workplace, but should be read by those preparing to enter the workforce. I pray that this book will help its readers to understand more fully the verse, "And whatever you do, do it heartily, as to the Lord and not to men" (Colossians 3:23, NKJV).
Ed Russo: Senior Pastor of Victorious Life Church in Wesley Chapel, Florida
"The Value of Work is such an important book if we expect to reclaim our culture for Jesus Christ . . . The book you are holding in your hand will help fill the current void of solid materials on a theology of work"
Os Hillman: Marketplace Leaders
Many books have been written exploring faith and work issues, but helpful summaries of relevant biblical, historical, and theological perspectives are hard to find. In The Value of Work in the Eyes of God, Douglas Woolley provides us with a very useful introduction to the mountain of material he has been sifting through. He offers us a treasure-trove of information and a valuable introduction to some of the key people and perspectives that have shaped this movement.
Alistair Mackenzie: Director of Faith at Work (New Zealand) and author of Where's God on Monday?
---
Author Profile
Douglas E. Woolley works as a systems engineer for Verizon and serves as a National Director for FGBMFI. As a senior in high school, Doug ranked nationally in mathematics, computer programming, and in science. Doug graduated with B.S. degrees in Computer Science (from USF) and Interdisciplinary Studies with a concentration in Bible/Theology (from NCU), Summa Cum Laude. He is now finishing a Masters degree in Bible/Theology at SAGU and currently teaches "Berean" Bible courses to ministry interns. He is an international speaker, teacher, and author. His latest book is The Value of Work in the Eyes of God. Doug resides in Tampa, Florida with his wife Marsha, son Isaac, and recently adopted son Dimitri (from the country of Kazakhstan).
View full bio of Douglas E. Woolley
---